Pony Club Motto:
A happy child on a happy horse!
Pony Club is one of the leading junior equestrian organizations in the world, represented throughout 30 countries! The United States Pony Club (USPC) has over 600 individual clubs spread throughout all 50 states and the Virgin Islands, with more than 10,000 members. The United States Pony Club was established in 1954 by a group who wanted a structured program to not only teach their children sound riding skills, but also how to care properly for their mount.

Established in 1954, Millbrook Pony Club is one of the original members of the United States Pony Club.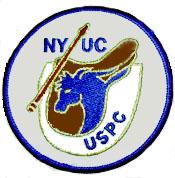 The club is part of the New York/Upper Connecticut Region Pony Club.
A concern for safety is an important part of the foundation of USPC. Ours was the first equine organization to require its members to wear safety helmets. Our guiding beliefs regarding safety reach into every aspect of the organization. Volunteers and staff make safety a priority.
Millbrook Pony Club (MPC) is one of USPC's 600 local not-for-profit 501(c)3 clubs. Each club is a member of a regional organization.  We are affiliated with the New York/Upper Connecticut Region, which has 16 clubs. Funds to support Millbrook's activities and educational programs are raised through modest membership dues, charitable contributions and the fundraising activities of club members and their parents/guardians.
Our club is made up of members who reside in Dutchess and surrounding NY counties. All individuals who join Millbrook Pony Club must be a minimum of 7 years of age at the time they apply for membership.  Members range from 7-25 years of age.
As a member club, we subscribe to the Mission Statement and Guiding Beliefs of the USPC. Membership in Pony Club requires a strong personal and time commitment from our members and their parents/guardians. We encourage those interested in Pony Club to read the USPC Mission and Guiding Beliefs below and to review our website to be sure Pony Club is right for you!
Mission Statement
The mission of the United States Pony Clubs is to provide a program for youth that teaches riding, mounted sports, and the care of horses and ponies, thereby developing responsibility, moral judgment, leadership, and self-confidence.
Guiding Beliefs
USPC is an educational organization which progressively develops the well-rounded horseperson.

The well-rounded horseperson is capable of riding safely and tactfully on the flat, over fences, and in the open. Knowledgeable care of horses and ponies (horse management) is basic to the well-rounded horseperson.
USPC is committed to the well-being of the horse.
Fair and friendly competitions develop teamwork and sportsmanship.
Fun and friendship are part of Pony Club.
USPC requires parental and volunteer involvement and support. The USPC is committed to safety.
The local Club is the core of USPC.